Squirrel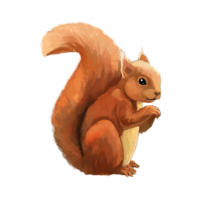 | | | |
| --- | --- | --- |
| Stamina | | 133.17 |
| Speed | | 172.19 |
| Dressage | | 95.22 |
| Gallop | | 133.09 |
| Trot | | 38.10 |
| Jumping | | 95.06 |
Genetic potential
Total: 6201.65

Stamina

1238.48

Gallop

1237.76

Speed

1601.40

Trot

354.35

Dressage

885.60

Jumping

884.05
Excellency
Stamina
Speed
Dressage
Gallop
Trot
Jumping
This mare has 563 excellence stars.
Whip

dressage: +4, gallop: +9, trot: +9, jumping: +9

Squirrel

dressage: +2
Equestrian Centre
Squirrel 20P is less than 6 months old and still lives with her mother. Therefore, you don't need to board her in an equestrian centre.