Welcome the Japanese divine horses!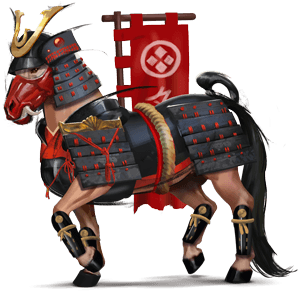 Japanese Divines
Help us welcome our newest divine collection, the Japanese divines! Each horse from this series is inspired by an element of Japanese tradition.

Starting off the series is our handsome Samurai. He will give you Omikujis every day when he wakes up (similar to the divination aspect of the Celtic collection). You will then have to choose a prize from those on offer. He can't be sold and his skills can increase through the use of passes.


How can you obtain this new Japanese divine, Samurai?


He is available from the Golden Fleece in parallel with the Japanese Ruins event. (Be careful as this is the first time a divine isn't the jackpot of the contest.)
As Samurai will be hiding within this luck item, those who're unlucky in winning him outright can benefit from the new divine fragments.


How to get the Divine Fragments?

By opening the Golden Fleeces




During the contest as there are several doors that contain them




Unlocking commercial offers during the contest that will increase the number of divine fragments that you can receive.

To win the divine, Samurai, you will need to fill his fragment gauge, which requires 1,000 fragments.

Have fun collecting him and/or his fragments!

Best of Luck,

The Howrse Team

Posted messages: 796
Karma: 10 points